Our Puppy Raiser program puts service dog learners from as young as 8 weeks into trained foster homes. Whilst at these homes and up until they are approximately 1 year of age, puppies will learn basic obedience, house manners, and undergo intense socialisation. Honey's Garden supplies the tools and information necessary to be successful in puppy raising. We offer a training workshop and advice as well as weekly training sessions.
Honey's Garden takes donated puppies from reputable breeders as well as rescuing from a variety of welfare organisations.
Once we have selected the best puppies to join our program, the next step to their future career as a service dog is being placed in a puppy raiser home. Honey's Garden may have dogs of different ages available to puppy raiser homes. 
General
Requirements
/
Criteria
Puppy raiser homes must be within 1 hour of Honey's Garden for Medical Alert Dogs, Sunningdale, Cape Town. Raisers for our older dogs in training must be within our immediate catchment area.
To begin, all puppy raisers must complete an application form, attend an orientation at Honey's Garden for Medical Alert Dogs facility and undergo a home check. Families need to comply with Honey's Garden policies and procedures as outlined in puppy raiser paperwork.
We need our raisers to provide a stable, safe environment for a puppy to live in, be willing to provide at least three socialisation outings per week, attend weekly classes, be willing to travel to and from Honey's Garden for Medical Alert Dogs as necessary with a reliable means of transportation. Puppy raisers must fill out monthly and weekly reports about the Honey's Garden Service Dog in Training
We will provide puppy raiser training, you will receive a startup set of supplies as well as all veterinary care and food at no cost. Treats and additional toys are the responsibility of the puppy raiser.
In limited circumstances, Honey's Garden may approve exceptions to the 1 hour radius requirement for current puppy raisers who move outside of the radius. There will be terms and conditions involved with this.
Often, Honey's Garden receives dogs for training who have homes already in the wider Cape Town area, but their homes are too far for daily training to occur. We ask raisers in our immediate area to host these dogs during school time (Monday-Thursday). The dogs family will collect their hero for weekends. 
How

do

I

become

a Honey's Garden Puppy Raiser?
Step 1: Complete an application
Apply Now – Complete the application online here:  

Step 2: Receive home check from Honey's Garden
​​​​​​​
Step 3: Receive information / rules and regulations from Honey's Garden
Step 4: Get your hero in training to host!
Step 5: Online Puppy Raiser Training Program and portal
(This is currently being developed and will be debuted SOON!)
This is a comprehensive online training program to prepare our puppy raisers with the skills necessary to successfully work with a service dog in training. It will cover topics such as: house training, obedience commands, rules and policies, health concerns, etc.
_____________________________________________________________________
If you have any questions during this process please feel free to contact Honey's Garden for Medical Alert Dogs!
info@medicalalertdogs.co.za
072-250-0336
Leadville Way
Sunningdale, Table View, CPT 7441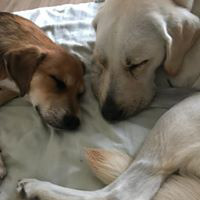 Honeys Garden is a nonprofit, 2016/387235/08 organization whose mission is to place quality service dogs with people within South Africa who are under privileged, fighting with disabilities or diseases, and veterans who have lost use of limbs or hearing. We also help with animal rescue, and educate the public regarding use of service dogs in public places.